Romantic Love Messages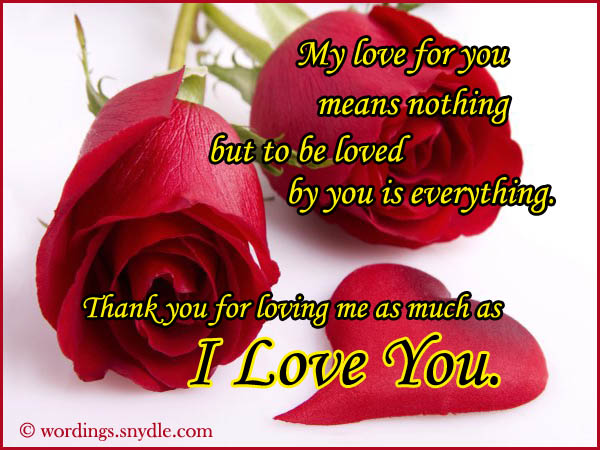 Being in love is the sweetest feeling a person can have, especially when it's new. It can light up anyone's life. It makes people go crazy to believe that fantasies are real and happy endings do exist. But in this world of reality, there is no room for fantasies. People changes as time passes, no exception at all, even feelings do change.
Love has only two options, either it grow and last for a long time or just die in a blink of an eye. If it grew, then you're lucky. The love is still there. So every time you tell them you love them, put a little romance in it. Use some of these romantic "I love you" messages to keep the fire burning.
However, if you feel that the flame of love is starting to die out, it's not yet too late. Use these romantic "I love you" messages to put a little spark in your relationship. If you still love your partner, never let the coldness overcome you both. Save your relationship from drowning, lit up the fire of love again.
Romantic I Love You Messages
Romantic Love Messages for Wife
I love you.
I'm telling you this because if ever I won't wake up tomorrow,
my life was spent in loving you and my final moment was spent
in letting you know how much I love you.
I had a hard time thinking of the sweetest words I could say to you.
But I guess there could never be a word sweeter
than saying thank God I found you.
I love you so much.
I have seen you through your best
and even through your worst but no matter what I do,
I still find myself falling deeper for you.
I will forever love you.
Despite of my hectic schedule,
I still find time for you,
because time will be a waste when I'm not with you.
I love you.
Romantic Love Messages for Husband
Being with you for the rest of my life is my happiness,
because when I'm with you,
I felt so much happiness and I am being valued.
Thank you for loving me.
We've been in love for years
and I already knew that you're not perfect.
But I can't explain why I still find perfection in you
despite your imperfection.
Maybe that's love.
You know how much I love you despite of your imperfections.
You're not just my love but you're also my best friend.
A love for a lover + a love for a friend = I love you forever!
Do you know why I keep on asking you to say my name?
Because that is the sweetest music I want to hear every day.
I love you so much honey, please say my name.
Romantic Messages For her
Romantic messages for girlfriend, wife and fiancee': Spice up your love by sending her romantic messages that make her know you are thinking about her and you value her in your life. She will know that you are not taking her for granted and your love will grow deeper.
ROMANTIC TEXT MESSAGES FOR HER
Baby girl you are the only one who makes me feel like a hero. I want to be there to protect you always, and be the one who makes you smile. I love you.
I am not perfect nor will I ever be, but my love for you is perfect and so I hope enough to chase all your fears and insecurities away. I love you girl.
That this message is short does not mean my love is any less. I love you deeply girl.I can see you even you are away.
I can hear you even if you don't speak.
Your force is so strong that I cannot help but to love you more.Will you still love me even if I hurt you?
Will you still smile even if I made you cry?
Even though I am not right for you, I will still try to be worthy of you.HEART has an EAR in the middle so that we can take time to HEAR.The shape of heart is like our left and right ear.
It is so that we can listen to what our hearts tell.TRUST has U in the middle.
If without it, our relationship will end because of RUST.
Let us learn to put trust in our relationship.Every girl deserves a man to love them.
Their life is like a fairy tale waiting for that price to arrive and live happily ever after.A man is vulnerable when he is in love.
But that love makes him stronger to live life.
Woman, you perfect for me. Yours truly and forever.
I am not just anyone, I am someone because you love me girl.
Who cares what the world thinks? You are my number one girl and that is how it will stay forever.
I want to buy you a veil to cover your radiant face. Your smile is dazzling, you are making me blind.
Take a chance on me baby girl, you will find my love deep and true.
ROMANTIC LOVE MESSAGES FOR HER
Come closer my love and touch my heart and feel its rhythm. It sings your name over and over again as the one woman to whom it belongs. I love you baby.
Sometimes I wish I were a poet so that I could spin words of love that will let you know how much I love you. May my simple words convey that message to you loud and clear.
Who ever knew that a small woman like you could bring a big man like me to my knees? I take my position here gladly for you are worthy of my adoration baby.
When I see you smile my heart is glad and I would pluck grapes from the top of the highest mountain in the world just so you could always have a smile.
I would compete with Hercules just to hold the Atlas Mountains on my shoulders and find you a deep cave in them to keep you safe.
You have been my inspiration and with you by my side I feel I can conquer the world. Walk with me honey and let us walk into the sunshine together.
Just thinking about you makes even tough days go smoothly. You have given me a reason to hope and face the future girl. I love you.
ROMANTIC MESSAGES FOR GIRLFRIEND
The little thoughtful things that you do for me count for something so big and I am the luckiest man on earth to have found such a caring girl like you.
I have nothing in the way of worldly riches and goods to offer you and yet I am amazed each and every day that you choose to be with me. You are an awesome person.
Your tender heart and gentle smile make any and every pain worthwhile. Knowing you are there for me makes unbearable times bearable.
You are the epitome of womanhood to me baby. Your love is all encompassing, rich and deep, I could swim in it forever and never want to come to shore.
Let me be the man to lift you up when life wants to put you down, let me be the man to hold you close when the world turns against you, let me be the man to always make you smile when life throws challenges at you. Please baby, let me be your man.
ROMANTIC MESSAGES FOR WIFE
When I chose you I got more than I expected. I expected ordinary and got extraordinary, I expected love and got adoration. I expected smiles and laughter came along too. Baby I got the best when I chose you.
Through the years you have been a source of inspiration and that is why I have achieved all that I have. It may not be much but to me it is a world of wealth. You are a great woman and I love you dear wife.
God smiled on me when He gave you to me to be my helpmeet, and through the years I have seen His wonderful blessings as we have shared joy and pain, laughter and sadness. You have been my anchor baby and I thank God everyday for you. I love you darling.
No man can claim to be richer than the other because true wealth is not found in material things, but in deep and sincere hearts filled with love like yours. No man can compete with me and hope to win in the game of love, for I have the one and only prize trophy. Love you honey.
Walking with you through life, loving you, sharing all with you has been great and I would have it no other way. You are the woman that makes me the man that I am. I love you.
Love SMS Messages
Cellular phones are such a great invention. With it, you can easily touch the heart of your beloved by just tapping its keypads. Make them feel loved and let your feelings get them fast with these love SMS messages and love text messages. Not just via SMS, these love messages, love wordings, love quotes and love sayings can also be used as love card messages and love quotations for love cards.
Happy couples share life together, believe in each other, and cherish every moment together. They are a team who knows that they don't have to leave each other. Most of all, God is the center of their lives. Stay happy with your spouse!
Lean on your partner and do not leave him.
Love and be thankful.
Spend time to cherish the moment.
Go ahead, let him feel special.
Grow in love each day with your partner.
Never let a day pass without saying how much you care.
Life is short, live it to the most.
Sweet Messages for Love Cards
Do not rush into a relationship if you are not ready.
Not unless you learn to love and respect yourself will you be able to share that love and respect to others.
My heart jumps for joy whenever I make you happy.
Your smile tells me that I am appreciated. Thank you very much!
Every day is holiday if it is spent with the one you love. Happy Holiday!
What if your soul mate is the one you bumped with this morning?
What if he is the one beside you in the bus?
What if he is just there standing beside you?
What if he is just across the street and you failed to see him because of the passing cars?
It is hard to tell. Just be aware of what destiny tells you.
Rule no.1 The girl is always right.
Rule no.2 If she is wrong, please see Rule no.1.
Everyone wants to love and be loved and it is a great day when a man finds a woman that feels the same way about him as he does her. That special woman in your life is there because she wants to be and because she loves you and believes that you can share wonderful moments together, and if possible build a lifetime together. When you met her and fell in love with her and decided that she was the one you had been searching for, it seemed as if fireworks exploded. She needs to know that you still feel deeply for her if not more and a woman never tires of hearing loving words from her man.
Sweet Love Messages for Girlfriend
Love Messages for Girlfriend: Whether you for an old school slipping a hidden note inside her planner or go digital with instant messaging or tag her on an SNS post—saying "I love you" to your girl makes both of your days extra bright. True love, in contrary to most beliefs these days, isn't at all complicated. Its simplicity is masked by innocence and purity. Making a girl's skip a heartbeat should be second nature to any guy, as long as those three magical words hold a deep meaning for both.
"You are the hottest girl in class that's why everyone wanted to have you. Now that you're mine, only I know how beautiful your heart really is. Stay lovely and loving today and for manty days."
"I can only paint the world with colorful hues every time we are together. Our love is a masterpiece you create every day."
"When I found you, I realized that I really didn't need a perfect life—all I needed was you making every day filled with love and happiness."
"I am perfectly fine if people call me selfish for only wanting your happiness and love every single minute of the day."
"You are an awesome person. I can't believe how I just realized that only now because I was blinded by your beauty. But now, you bloom in a lovelier light."
How to Say I Love You to Your Girlfriend
"Sorry for the times I keep spacing out when you're telling me something, I just love listening to the sound of your voice—that then turns into a prettier girl with every word."
"Just like how you need fries and apple pie on your spaghetti meal, I know cannot last a day without your lovely smile and beautiful face."
"I still don't know how you pull together innocence and sexy glamour, all I know is that I am the luckiest guy on the planet for having a girlfriend like you."
"February is probably the worst month—I only have twenty-eight days to tell you I love you and hug you in the morning and kiss you goodnight."
"My heart tingles and sizzles with every kiss and hug you give to me. You just blow my mind away with your flirty winks. Thanks a lot—I'm a crazy person now."
Most Romantic Love Messages for Girlfriend
Treat your girl extra special. Send her sweet love messages and romantic love wordings that will sweep her off her feet from our special collection of Love Messages for Girlfriend. You can use these Love Message for Girlfriend as love card messages or messages for Valentine's Day. For cellphone fanatics use these as romantic love sms, love quotes and love sayings can be sent as love SMS messages, love email messages or Love text messages.
"A song says he would walk a thousand miles to prove his love. I will never do that, because wherever you go, I'll be there holding your hand."
"Thank you for your morning hugs that make me feel I am the handsomest man earth when I actual reality I'm scruffy and smell when I get off the bed. Your love is the best."
"Every day you make me believe in true love. From this day on, my heart knows how to love only you."
"I think of you when I'm happy. I think of you when I'm sad. Every single step I take lead me to your love."
"My heart only calls for your love, and every time it does, I have no strength to deny it of you."
Sweet Love Messages for Her
"Like stars shinning in the night sky, my love for you knows no bound from the fall of darkness to the break of dawn."
"Whenever you share your beautiful smile with me, I feel like I'm the luckiest man alive."
"I know we're a weird couple because almost nothing about us matches. Still, I know and feel that all I need to get me through the day is your love."
"Just the thought of you makes me smile to myself. The happiness you share with me every day is something I will always treasure."
"Your love knows no complexities or pride or pretensions. It is simple and straight forward, and like me, you don't know any other way how to love."
Sweet I Love You Girlfriend Messages
"Whatever your past is and whatever the future holds, know that I will always stay by your side and will never let your hand go."
"While some believe that love is fate, ours happened with an accidental heartbeat and flashes of shy smiles."
"You've become the compass of my life. Where ever I go, at the end of the day, I find myself resting in your arms."
"A story has three main parts. Beginning. Middle Ending. Example: I. Love. You."
"While everything around you was perfect, you chose to love me in spite of the fact that I'm the weirdest boy you've ever met—now I know what true love looks like."
sweet love messages for her
I am the most fortunate man in the world because you are my girl.
I am willing to do anything just to make you smile.
I will not allow anything to come between us.
You are mine. I am yours.
Let's stay this way forever.
I Love You.
You are the reason why I always wear this smile on my face.
If words are not enough to say that I love you, I will shower you with my hugs and kisses.
All the hardships I can endure just to make you happy.
I may not be able to buy you a diamond but yours is my love that is more precious than that.
Loving you is important to me. Your love is precious to me.
I LOVE YOU MESSAGES FOR HER
My darling, if beauty made a virtuous woman then the world should be full of peace. However inner beauty is rare and precious and you have all those traits in you. I am truly honoured that you are my lady. I love you baby.
A virtuous woman is the joy of her man. You are my joy my darling. Among all the women in the world God made you especially for me. The qualities you possess are His blessings to me, and therefore I am the luckiest man on earth. I love you my darling.
Every day I count my blessings for having you in my life. You light up my world with your beautiful smile, your gentle eyes and your compassionate heart. You are awesomely wonderful darling. I love you so much.
Who among men is as blessed as I am? From the great and beautiful garden of the Creator, one flower stood out among the rest and it was specially grown and tended just for me. You are my rare flower and I love you.
You are the queen of my heart and I am your humble servant. Baby your wish is my command and I will obey with love and a smile because I love you so much.