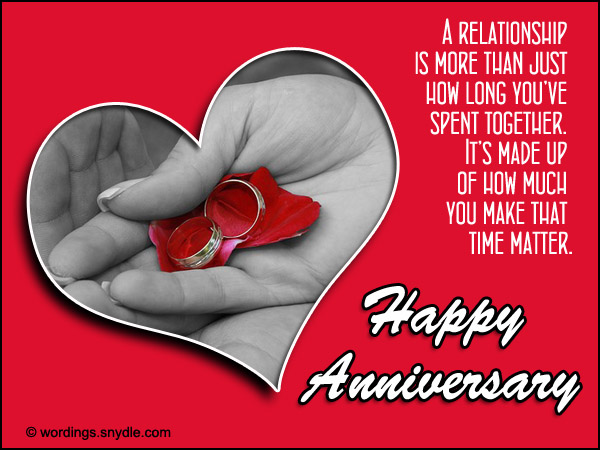 A marriage is built on memories, after all. Maybe you can even give them a new one to cherish. Give them a time to remember, so that when they look at your card years from now they'll have something to smile about. But make sure you don't intrude too much into a day about the two of them. You're there to help, not to take the spotlight, after all. Here are some of the best Wedding anniversary wishes to your couple friends.
Psssst…hey, have you seen that cute woman over there? I thinks she's checking you out. Oh, wait, that's your wife. Happy Anniversary! (Does she have a sister?)
The two of you were made for one another…but I'm not sure where the instruction manual is. Happy Anniversary!
Word around town is that you two are quite an item. Wait, what do you mean you're already married? For how long!?Well, in that case, Happy Anniversary!
Every year when I look at the two of you, all I can see is how much more you love each other. I look forward to seeing how much you two will love one another next year. Happy Anniversary.
Did you know you'd spend the rest of your lives together back when you first met? Because I know some of us suspected as much. Happy Anniversary, you two.
You two won't believe how hard it is to shop for a couple that already has everything they could want sitting right next to them. Happy Anniversary to you!
I don't suppose I could convince you two to have a second wedding, could I? I mean, the first one went so well, and I'm dying for another bite of that wedding cake. Happy Anniversary, you guys!
Things may not always be perfect in a marriage, but the two of you together make it the next best thing. Happy Anniversary!
To the perfect pair, who live together, love together, learn together and laugh together. And of course, celebrate together! Here's to another Happy Anniversary!
Finding the perfect person for you is like digging up a diamond. With time, effort, and a bit of know-how, you have something beautiful you can wear with you for the rest of your life. Happy Anniversary to the diamonds in the rough.
If every couple was as perfect as you, the world would be a better place. Here's to one of the best couples I know on their Anniversary.
I actually wanted to celebrate the anniversary of your bachelor's/bachelorette party, but I get the feeling you wouldn't exactly go for that now. Happy Anniversary to the perfect couple!
Not all of love is a fairy tale. It's a long story, filled with ups and downs and twists and turns. There are times for laughter and times for tears. The perfect couple is the one who can make their way through all of that, and have even more love for one another than when they started. Happy Anniversary to the prince and princess.
Seeing the two of you now, it's hard to believe there was a time when you weren't together. Have a Happy Anniversary!
If life is a garden, then marriage is a seed. With love, care, and time it will grow into something beautiful and bountiful. Here's to a beautiful garden. Happy Anniversary!
The two of you aren't two halves to the same whole, because the two of you together are so much more than that. Happy Anniversary!
A single thread is a fragile thing that snaps under pressure. But when you spin them together with other threads, they're stronger. The pair of you together are strong enough to withstand anything, and this anniversary proves it. Happy Anniversary.
Today isn't just a celebration of your wedding day. It's a celebration of every day since then and every day the two of you will ever live together. Happy Anniversaries, past, present, and future.
After you've spent so much time together, I don't think any of us could imagine seeing the two of you apart. Happy Anniversary to you two!
If I could write out your story and sell it as a romance novel, I'd be rich! So…how about it? Happy Anniversary!
Life is like a dance floor. There's a lot of noise, confusion, and people moving around. But when you've got a good dance partner, you've got nothing to worry about. Happy Anniversary!
The two of you should probably go get your eyes examined sooner or later. That way, you'll always be able to see how much you love each other. Happy Anniversary!
I hope the two of you never forget how lucky you are to have found someone who is so right for you in every way. Happy Anniversary to one of the best couples I know!
You two have been together so long I don't think I could ever imagine you apart. I guess a marriage is greater than the sum of its parts. Happy Anniversary!
I'd be lying if I wasn't a little jealous of how lucky you two got finding one another. Here's to you two lucky ducks on this Happy Anniversary!