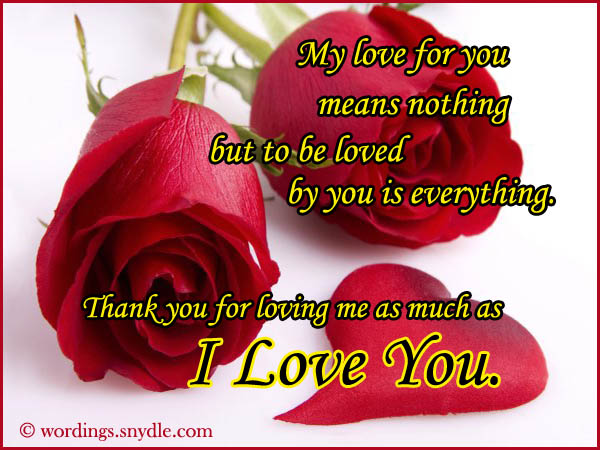 Being in love is the sweetest feeling a person can have, especially when it's new. It can light up anyone's life. It makes people go crazy to believe that fantasies are real and happy endings do exist. But in this world of reality, there is no room for fantasies. People changes as time passes, no exception at all, even feelings do change.
Love has only two options, either it grow and last for a long time or just die in a blink of an eye. If it grew, then you're lucky. The love is still there. So every time you tell them you love them, put a little romance in it. Use some of these romantic "I love you" messages to keep the fire burning.
However, if you feel that the flame of love is starting to die out, it's not yet too late. Use these romantic "I love you" messages to put a little spark in your relationship. If you still love your partner, never let the coldness overcome you both. Save your relationship from drowning, lit up the fire of love again.
Romantic I Love You Messages
Romantic Love Messages for Wife
I love you.
I'm telling you this because if ever I won't wake up tomorrow,
my life was spent in loving you and my final moment was spent
in letting you know how much I love you.
I had a hard time thinking of the sweetest words I could say to you.
But I guess there could never be a word sweeter
than saying thank God I found you.
I love you so much.
I have seen you through your best
and even through your worst but no matter what I do,
I still find myself falling deeper for you.
I will forever love you.
Despite of my hectic schedule,
I still find time for you,
because time will be a waste when I'm not with you.
I love you.
Romantic Love Messages for Husband
Being with you for the rest of my life is my happiness,
because when I'm with you,
I felt so much happiness and I am being valued.
Thank you for loving me.
We've been in love for years
and I already knew that you're not perfect.
But I can't explain why I still find perfection in you
despite your imperfection.
Maybe that's love.
You know how much I love you despite of your imperfections.
You're not just my love but you're also my best friend.
A love for a lover + a love for a friend = I love you forever!
Do you know why I keep on asking you to say my name?
Because that is the sweetest music I want to hear every day.
I love you so much honey, please say my name.