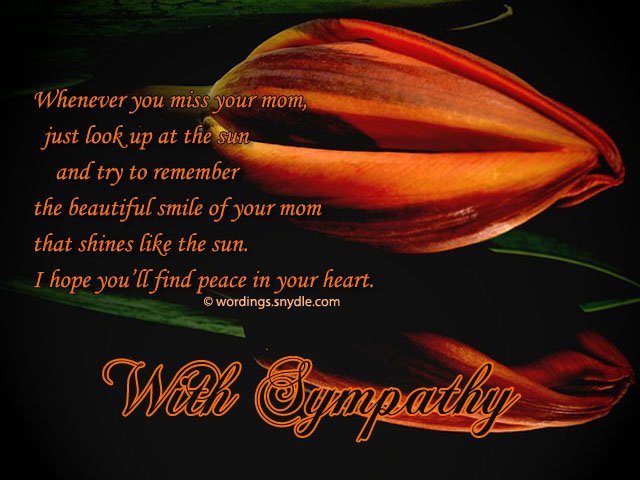 A mother is the most amazing entity here on earth. She's the supporter of the head of the family and the powerhouse of love. She's the only person that can dedicate her life in taking care of her family and can offer unconditional love. Losing a mother is a heart breaking situation. It is a painful experience that is very hard to surpass and losing her means losing everything.As a family or a friend, your comforting words can greatly help them face their current struggle better. Sending them your words of sympathy, prayers and healing may lessen the burden they carry. Find a collection of Sympathy Messages for Loss of a Mother below
Prayer is like a car's steering wheel. It helps direct our lives to the right path. Now that your mom is gone, we offer you prayers that God will guide and accompany you as you journey life without your mom. We're sending you our sincerest sympathy.
You may not show it, know you're hurting inside. I admire how you handle yourself in this kind of situation. But it doesn't mean that you're not allowed to cry. Crying can ease the pain in your heart. If you need a shoulder to cry on, mine are available. Please accept my genuine offer.
Whenever you miss your mom, just look up at the sun and try to remember the beautiful smile of your mom that shines like the sun. I hope you'll find peace in your heart.
I am so grateful that your mom may no longer feel the pain she endure for how many years. But I am sharing the sadness with you that are left behind. My thoughts and my prayers are in you.
If your too hurt to look back and too scared to look forward, try to look at your side to seek comfort from your friend and upward to find peace. I can be your friend anytime you want.
May your mom's good memories bring peace and comfort in your heart. Please know that you're in my thoughts and in my prayers.
One of the many things I will miss about your mom is her sweet smile. I will never forget the smile that once lightens up my days.
We may move on someday, but we can never let go the memories we have with her. She will stay forever in our hearts. We are keeping you in our prayers.
Your mom lived a remarkable life. She didn't leave with grudges. I'm sure she is now happy wherever she may be. Wishing you peace and healing.
I just want to extend my deepest sympathy to you and your family. You and your mom are in my prayers.
I know this is a hard time for you. Just want you to know that I will be here for you as long as you need me. Be strong we love you.
I pray to God to give you strength to deal with this situation and I hope that your mom is now resting in peace. Pleas know that we share in your grief.
Your mom was a great friend, a great wife and a great mom. That's why everybody loves her. Everybody loves you too. I hope our love can lessen the sorrow you feel in your heart. Please accept my condolences.
They say, people who have come to heaven, become a star. So, whenever you miss your mom, just look up at the night sky and find the brightest star. That your mom, always looking out for you.
No one can ever surpass the love of your mom to you. Just letting you know that we are here to love you. If ever you need a hug, my arms are open to give you one. Please accept my sincere sympathy.
Don't be sad. I'm sure your mom is now happy wherever she is. Just hold on to her memories and try to smile as you reminisce your moments with your mom. My heart goes out to you.
Don't cry baby, mama is watching you from heaven right now. You don't want to make her cry too, right? She's now happy with god in heaven and you should be too. Be strong sweetie.
Before your mom died she told me not to worry about her but to worry about you. Your mom loves you so much that before she goes, she made sure that someone will be there for you. I hope you'll let me fulfill your mom's last wish.
I felt my skin shivers as I heard the news. I hope that she is now happy wherever she may be. I'm very sorry for your loss.
When you can no longer hide your tears, just come to me and we will cry together.
We are one with you in mourning for the loss of your mom. She was a great person. She had been an inspiration to us. Her memories will be treasured in our hearts till the end of time. Stay strong. God loves you
I can't imagine how a child like you can handle this kind of situation. You really are a copycat of your mom. I'm sure wherever she is, she is so proud of you. Stay strong. We are here for you.
Words can't express how sad I am for the loss of your mom. She was so good to me that she will live in my heart forever. I'm very sorry for your loss.
Your mom is a strong woman. She has gone through a lot of battles in life and she never gave up. I hope you're as strong as your mom. Please accept this little tribute from me. It will help you a lot.
When you're about to quit, always remember this; "a fighter with a greater faith in God will never be a looser."Be strong and put all your faith in God. He will take care of you. My sympathy may be on to you.