Facebook Birthday wishes and messages for friends: Truly we are connected to each other. No matter the physical distance, the digital world has made it possible that we can reach our loved ones, family and friends with just a click away from the computer mouse. This is perfectly exemplified by social networking sites, spearheaded by Facebook. Whatever the occasion,  Here you can find some wonderful heartwarming Birthday Messages for Friends on Facebook. Please browse through them and I am sure that you will find some great messages for your friend.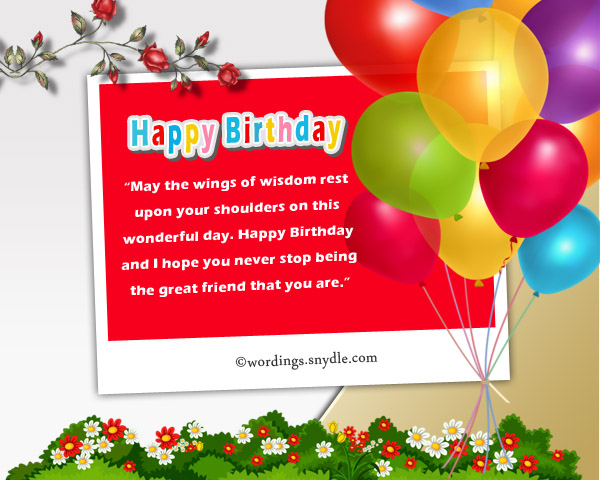 Happy Birthday Messages for Friends on Facebook
"Happy Birthday! May your day be filled with a thousand bright smiles, warm hugs, loving kisses and wonderful wishes."
"My only wish for you this day is that you will never stop in growing to be the most beautiful person I know. Happy Birthday!"
"For this day alone, I give you all the rights (and lefts) of being the boss of me. But meals are limited to lunch at the cafeteria. I wish you the best Birthday my dear friend."
"Shine like a star!—is what I want to tell you, but you always do that all day every day. I hope that you will always find that energy to make me happy. Happy Birthday."
"To the most random person I never wanted to meet, but here we are nonetheless, I love how you leave me clueless every after five minutes (and I think that's during your off days), I wish you the happiest birthday."
"You always know what to say to me. Well today's the day because there are many things I want to tell you on your special day—but all that will happen at lunch, do you dare be late. Happy Birthday!"
"On your special day, I want to thank you for being a real friend. This is the one day that I can return the favor. Happy Birthday!"
"Happy Birthday to you my dearest friend. Like always, I promise to be that kind of friend that LOL's at when you get tripped for no reason but, I'll be the first to pick you up."
Happy Birthday Greetings for Your Facebook Friends
"The best of birthday to you me dear friend. I pray that our Lord will keep blessing you a pure heart and kind soul."
"On this most special of days, I pray that the music of your kindness will ever stop playing and reach even farther listeners. Happy Birthday!"
"The peace and grace of our Lord be with you this blessed day. May you continue to serve others in His name."
"To you my friend, I pray that all your good prayers will be answered by our Lord. Happy Birthday and never stop being an angel to the people around you."
"I bring you the gift of more fun and laughter than we usually share in a day. You deserve all the happiness in this world. Happy Birthday!"
"As a new leaf of your life turns anew today, I wish that you become more vibrant than you already are. You are a breath of fresh air to everyone. Happiest of birthdays to you my friend!"
"A new chapter of your life begins today. Our Lord has already written the most wonderful story for you. My wish is for you is to keep your faith in Him stronger than before. Happy Birthday!"
Birthday Wishes Messages for Facebook Friends
"Today, I wish for your dreams to take flight and be free. You have a beautiful mind matched only with an equally beautiful heart. I hope you enjoy your birthday."
"Be thankful for the coming of this special day. You are that special to the Lord that He wants you to be the happiest person in the world on this day."
"My only prayer for you today on this special occasion is that you find that one moment where everything is at peace and you feel the presence of our Lord giving upon more of His love and blessings."
"May the wings of wisdom rest upon your shoulders on this wonderful day. Happy Birthday and I hope you never stop being the great friend that you are."
"Life gets more exciting every time you celebrate your birthday. It's like leveling up—you only get stronger and more quests will be available for you to conquer. Happy Birthday!"
"This day marks the start of more days to make even more beautiful and awesome memories with your family and friends. I wish you a lot of cheers for your birthday."
Happy Birthday Messages Wishes for Friends on Facebook
"Happy birthday to you my sweet friend! You are a miracle that keeps happening all day every day. You inspire many with your simple living, thank you and God bless you more."
"The nice part about gaining another year is that you know you've been around long enough to make a lot wonderful memories. Have a happy birthday my dear friend."
"You have a fantastic day ahead of you with your friends and family. You are a good friend to all and you deserve the happiest of birthdays."
"I wish that all beautiful things fly around you, not only today but for many, many days to come. Being friends with is the definition of happiness. Happy Birthday!"
"You are as special as this special day itself. Go full steam ahead and enjoy life and love with your loved ones."
"All my good thoughts and wishes are with you on your birthday. May you enjoy its wonders of it to the fullest."
"Cheers for celebrating another year of your lovely life. I will always be your friend and I am thankful to celebrate this special day with you."
"God has given you another candle to blow on your birthday cake because He knows how much you love life and your happy soul is the kind of contagion we would ever suppress."
"I wish you more fun and wonderful years ahead. On this day, know that your bright smile and the sound of your laughter is the rarest of gifts."
Facebook Friends Birthday Wishes
Happy birthday my friend! Wishing you all the best in the coming year head.
You deserve nothing short of good health, happiness and success in the days to come. Happiest birthday my friend!
On your special day, I wish you lots of fun and exciting memories that are unforgettable! Happy birthday.
One step at a time! Every year since I knew you, you have transformed to be so beautiful and inspiring. Wishing you a happy birthday!
Forget the past, embrace the future and enjoy the present! It's your birthday and there is no better excuse than this to just have pure fun. Happy birthday!
Happiest birthday to you! Hope you have an amazing time.
Congratulations you are a year older! Make a toast and celebrate this special occasion. Happy birthday, You deserve it!
It's your birthday and I wish you a fantastic celebration. Hope you share the pictures of the occasion!
Birthday Wishes for Friend on Facebook Status
You are the most inspirational Facebook friend I have ever had. May your day be as amazing as you are. Happy birthday!
Seeing that we are so far apart, let us turn your Facebook wall into an awesome birthday party. You deserve to be celebrated big! Happy birthday!
Happiest birthday buddy! You are older but still looking hot!
Whooo-hoo!!! Time to celebrate its your birthday! May you live to blow many more candles as you achieve even more goals. Happy birthday my friend!
Today I wish that your wishes become reality and your heart be filled with happiness. Happy birthday buddy!
Congratulations! This is the day when the whole world wishes you a happy birthday, even those you barely know. Happy birthday to my best Facebook friend!
Have an amazing birthday! Before your Facebook wall gets full and you can't read all the wishes, allow me to say that those in your life are very lucky to have you. Have a blast!
My dear friend, on this special day I wish you happiness and that you be surrounded by loved ones. Have a happy birthday!
Facebook Birthday Post for Friends on FB
May you have a fantastic celebration on this special day! You have been a great friend on Facebook to very many who are here. Happiest birthday!
May your day be full of unforgettable moments and fulfillment of all the things that bring happiness to you. Happy birthday friend!
Receive warm wishes on this special day. Wishing you peace, happiness, joy and prosperity on your birthday. Wonderful birthday my friend!
May the events of this day bring smiles to your face and laughter in your house. Happy birthday!
I was wondering why this morning seemed like I was entering into a blessed day, then I opened your facebook wall and found out it's your birthday. May the light you shine in each day, shine brighter in all you do. Happy birthday!
Congratulations! Today everyone will show you love even those who rarely comment on your posts. Enjoy the attention and have a happy birthday!
Friends like you are worth celebrating again and again. I know many have wished a happy birthday but now I want I want to finalize by saying that I will forever be your friend. I cherish you both on Facebook and on the real world. Happy birthday dear!
Facebook Birthday Wishes and Messages
This is the perfect time and day to make you know that I appreciate our friendship and thank the Facebook platform for enabling us to meet. Happy birthday!
I hope that on this day this day is as special and fun as you planned for it to be. Happiest birthday my friend!
I love that we share so much in common and seem to appreciate the same things in life. This is just to wish you a fantastic birthday!
Happy birthday my dear friend! This is the best opportunity to just appreciate your influence on Facebook. All your friends will agree with me when I say that every post has been an encouragement to better. Thank you and have a happy birthday!
Happy birthday! Don't allow anything to prevent you from having maximum fun today. You deserve it!
Allow me to join the rest of the world in appreciating one of the most special people that exist. Have an awesome birthday my friend!
Wishing you a happy birthday and a future full of wealth and good health! Enjoy my friend!