Share some romantic and sweet Goodnight messages for your special someone and loved ones tonight and make their day complete.
After a long and tiring day, everyone wants something that could stole them away from the stress of the day. So cuddling up with you before going to sleep is the best way. So take this opportunity to give  romantic goodnight love messages to let them know how they play in your thoughts the whole day. Make him feel that your heart beats only for them and that you miss him/her every hour of the day. Wish them a sweet good night with the below messages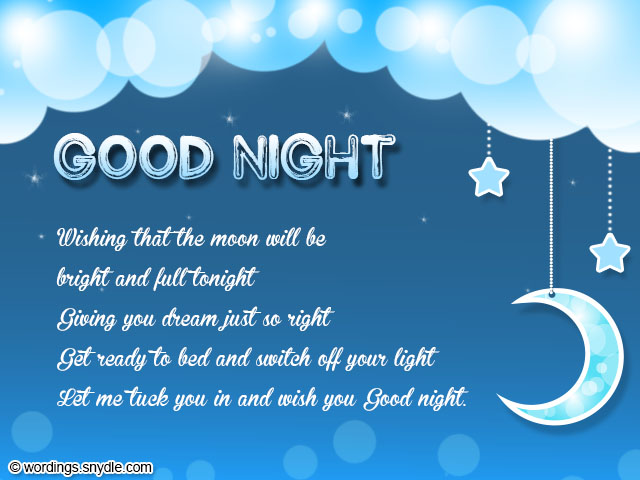 As for lovers that don't go to bed beside each other's arms, sending romantic goodnight text messages before going to sleep can ease the longings in the heart of your partner. So don't ever let the day ends without letting him/her know how much you love and misses him/her and how you long to cuddle up with him/her every night under the night sky. Here are something sweet to say goodnight, that you can send to your someone special.
Sweet Goodnight Messages, Goodnight Love Messages
Embrace the night in a romantic way by giving your most romantic goodnight text messages to your partner or send him/her text messages of love before you both go in the land of dreams. Below are some samples of cute goodnight messages that might help you express how you feel.
Dream is a magical place that unites fantasy and reality.
I hope to see you there tonight.
Sweet dreams my love.
Every night I fall asleep with a smile on my face.
Want to know why?
Because I know that I will wake up the next day
falling in love with you all over again.
If I can only touch the moon,
I will write your name on it to let people know
that you are the moon that light up my darkest night.
Goodnight!
"I love you!"
I hope this message is already enough
to make you smile and dream of me tonight.
Sweet Dreams!
I don't have time to look out the widow
and check how the moon shines tonight.
Because my eyes are busy looking at the brightest star of my life.
Goodnight my star!
Roses are red
Violets are blue.
I'm sending this message
Because I miss you so.
I love you. Goodnight!
Romantic Goodnight Text Messages, Cute Goodnight Messages
It's really nice to know that our partner thought of us before they go to bed. Make sure to feel them that way. Feel free to browse and use these goodnight messages for someone special to let your partner feel how much you love them.
A lovely goodnight message to
a lovable person from your loving partner.
Sleep tight and dream of me tonight.
I love you!
As you close your eyes, put on your sweetest smile
because someone is thinking of you tonight.
So sleep tight and dream of something good.
As I lay my back in my pillow,
I just want you to know
That somewhere out there
There's someone thinking of you.
And probably dream of you.
Goodnight, sweetheart!
You are one of the reasons
Why my day was awesome
Thank you for being there.
Goodnight, sleep tight!
Goodnight Messages for Her, Sweet Goodnight Messages for Him
If your partner had a long day, it will be a good idea to pamper them with your sweet thoughts. Let them know that whatever happened throughout the day, you'll stay beside them and let them know that they are loved. Here are some goodnight messages for your boyfriend and sweet goodnight text messages for girlfriend that you can use.
All the stars in the night sky are nothing compared
to the cute little star twinkling beside me every night.
Want to know why?
Because she is the only star that can make all my wish come true.
Goodnight my star. I love you!
Do you know why I love night time?
Because it is the time of the day that I can cuddle you
and hug you for a long time.
Goodnight Baby!
Goodnight to the girl that gives me sweet dreams
and make all my dreams come true.
Tonight I will be your Knight in shining armor
to drive all your nightmares away and be you prince Charming
to give you the sweetest dream you ever had.
Goodnight my Princess!
See you in your dreams.
Every night I came to realize that there is no
significant difference between a dream and a reality.
Because wherever I am, as long as you are there and you are mine,
I can always that; "I am happy to be your man."
Goodnight Text Messages, Goodnight Messages to My Love
Every time the night falls, I always get so excited to sleep.
Because when I'm asleep, I get to be with you even just in a dream.
Goodnight baby, hope to be with you soon.
It's sad to think that I won't be able to sleep with you.
But the thought that you will be in my dreams is
already enough to put a smile on my face as I fall asleep.
Wish you were here. Goodnight!
My night is bitter-sweet.
Bitter because I don't have you here with me
but sweet because you are all that I dream of.
Goodnight! See you in my dreams.
I may have a hectic schedule and go home tired at night,
but I will never forget to text you sweet dreams
and virtually kiss you goodnight.
My love for you is like the sky.
Sometimes it is as dark as the night
and sometimes it is as bright as day.
But one thing is for sure.
It will always be there till the end of time.
Goodnight!
Before you go to sleep tonight,
look out the window to witness a beautiful sight.
The moon and the stars are shining so bright,
all because they want to wish you a sweet goodnight.




Romantic Goodnight Messages, Cute Goodnight Text Messages
You are not a perfect person
but you are the reason why my life is almost perfect.
Thank you for completing my day.
Now I can sleep tight with a smile on my face.
I hope you are too.
Goodnight sweetie! Sweet dreams!
No matter how tired and sleepy I get,
I will never be able to sleep until I kiss you goodnight.
Sweet dreams my love!
Do you know why there are no stars in the night sky?
It's because they can't accept that for my eyes,
you are the brightest star. I love you!
May you sleep tight and dream of me tonight.
I won't be surprised if one day the moon
and the sun won't shine anymore.
Why? Because that is the time they will finally accept
that they can never outshine the brightest star
of my life that shines day and night.
Good Night wishes
Love good night messages
Sweet Goodnight messages