A person who is turning 18 is regarded as a full grown man or woman and no longer a kid. It is also the time for the person to gain his freedom and be certified as an adult with legal privileges like opening sign a contract to own a credit card, own and drive a car, be able to vote and be able to drink lots of alcohol in different bars. Here we have collected some heart warming 18th Birthday Wishes, that will help you to wish your friend or relative on this special day.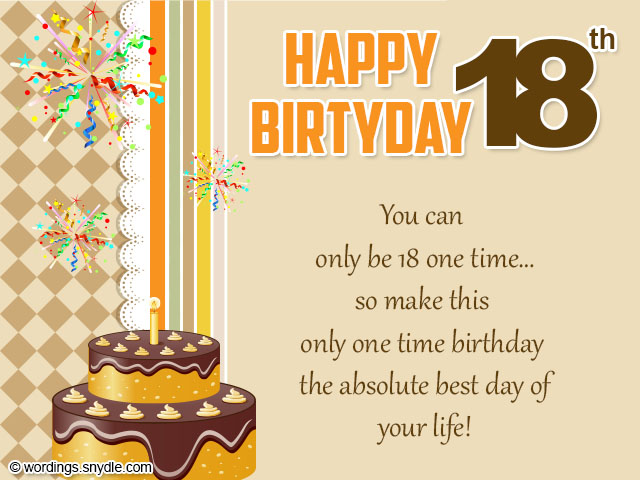 Happy 18th Birthday Wishes
In this section you will find some wonderful 18 candles message that you can send it for 18th birthday
On this special moment,
you're like a shining star that shines the brightest.
Happy 18th birthday!
I hope you will be able to achieve all your dreams.
You have grown to be as lovely as a bee and as sweet as a honey.
You are so dear to me.
Happy 18th birthday!
Don't ever forget to smile.
You might not know who's falling for that smile.
Keep smiling!
Happy 18th birthday!
Life ends when you stop dreaming and hope ends when you stop believing.
Your life doesn't stop yet so keep on dreaming and believing
that you will surpass all the challenges of life.
Happy 18th Birthday!
Don't ever let your heart rule over your brain.
You still have a long journey ahead of you
and love will come at the right time, but not now.
Happy 18th Birthday
18 Birthday Messages and Greetings
In this section you can find hand picked 18th birthday messages and I am sure that you can use these messages to make a wonderful 18th birthday card
On your special day, only think of the reasons that make you smile.
This is your day, the most wonderful day in your life.
Don't ruin it with a frown.
Happy 18th Birthday!
Happy 18th Birthday!
I hope this year will bring a lot of opportunities in your life.
Study harder and make all your dreams come true.
You are now ready to face life without so much guidance from your parents.
But always remember this, improve yourself and be someone better,
but never CHANGE and always stay the same.
Happy 18th Birthday!
Now that you've reached the stage of adulthood
I wish you all the best in the world.
Be happy and be stronger.
Happy Birthday!
You've reached an important milestone in your life
It's still a long way to do towards your destination.
But keep you head up and smile.
Have a great birthday!
18th Birthday Wishes for Son
In everything you do, you never failed us.
We are so proud of you. I hope you'll have
a wonderful journey with lots of adventure.
Happy 18th birthday, son!
I have been with you as you grow up.
I have witnessed your eagerness to learn and discover new things.
Now that you're ready to face the world on your own,
I hope all the things I taught you will be of great use to you.
Happy 18th birthday!
Real life starts at 18.
So you better prepare yourself because legal age means,
you have to be responsible for all your actions
and you will have no one to be blame but yourself.
As of now, just enjoy the party.
Happy 18th Birthday!
We have seen you grow up for 18 years and each year,
you make us so proud of you.
Way to go, son!
Having a son like you is the best thing that ever happened to my life.
I hope you'll still be the son I always admire.
Happy 18th birthday, son!
18th Birthday Wishes for Daughter
From a little worm, you have grown into a lovely butterfly.
As you celebrate your special day,
spread your wings and let everyone know how beautiful you are.
Happy 18th birthday!
On your 18th birthday,
we want to celebrate the day you become a part of our life.
We are so thankful that you have grown to be a good person
just as what we want you to be.
Happy 18th birthday to you!
It seems like yesterday I am still holding you in my arms
and I am always at your side to do everything for you.
But now, you don't need me anymore.
You're already on your own.
But no matter what happens, you will always be my baby girl
and I will always be here for you.
Happy 18th birthday!
No matter what you do, people will always have something to say.
So better prepare yourself and face all of these judgments with your head held high.
Be strong. I'm always here for you.
Happy 18th Birthday!
It's sad to think that you're no longer my little princes.
But you know what?
I will always be your knight, your hero and your loving father.
No one can ever change that. I love you, princess.
Happy 18th Birthday!
Funny 18th Birthday Wishes
Congratulations!
You have tolerated your parents for 18 years.
I know how happy you are to finally move out and enjoy your freedom.
Happy 18th birthday!
Enjoy blowing of as much as 18 candles.
'Cause on the next coming years,
there will only be 2 candles left for you to blow.
Happy 18th Birthday!
The fun and excitement starts today.
I know how excited you are to explore the life at night and tonight,
you'll make the biggest entrance to adulthood ever!
Happy 18th Birthday!
I know this is the most awaited part of your life,
the day that your parents will finally set you free.
This is so exciting! Let's party all night long!
Happy 18th Birthday!
Feel free to do everything you want.
But be careful, you might end up behind bars.
A little reminder from a friend.
Happy 18th Birthday!
I know you have a dirty mind.
So please stop acting like an innocent child because you're not.
Feel free to speak your mind.
But be careful, you might get a slap one day. Ha-ha!
Happy 18th birthday, bro!
You're no longer a kid to make pranks.
Make another prank and you'll end up in prison.
Grow up and be the best man you could be. Happy 18th Birthday