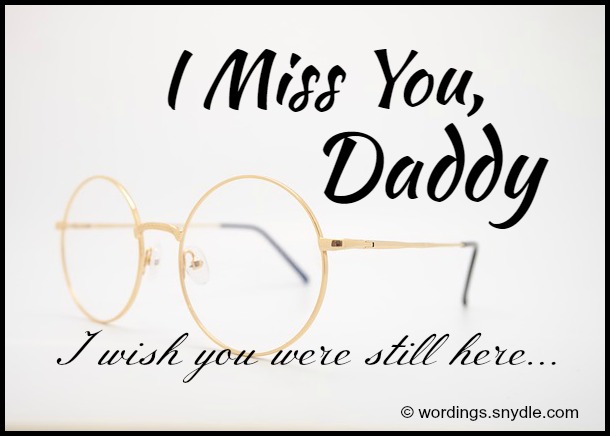 No matter how old a person gets a father is always special in their lives and when someone loses their father to death there is a big void left. Sometimes there is so much that you wanted to share with your father but did not get the chance and now that he is gone you feel as though the pain will never end.This is the time to write a Missing You Messages for a Father to express what is in your heart and even though your father will never read whatever you have written it will do you a lot of good knowing that you finally brought out what was in your heart.
There is no shame in being honest and real whether or not anyone else sees it. Missing your father is expected and expressing the pain is therapeutic. So go ahead and write special words to your departed loved one.
I Miss You Dad… I Wish You Were Here
It never gets easy daddy, it just gets different each day as we try to adjust to your leaving us so soon. We miss you so much.
You will forever remain alive in our hearts and memories daddy, and though we are learning to live without you we still miss you so much.
No matter how many years go by, the pain of your death never diminishes. Dad, I miss you so much.
Daddy, I am so sorry for taking you for granted when you were still alive. Now that you are gone forever I regret all the wasted opportunities and I wish you were still here so I could tell you how much I love you. I miss you so much.
You were my anchor and when you died dad I felt so lost. Even today, many years later I still miss you so much.
Whenever your birthday or other holidays come around I feel your absence so acutely. Life has never been the same since you left daddy and we miss you so much.
The love you had for all of us is something we deeply miss as much as we miss your presence in our lives. I wish I could turn back the clock to when you were still here daddy, I would appreciate and enjoy every moment with you. If only you were here.
If I was given one wish to make and would be assured that it would come true, I would wish that you would come back to us daddy. Daddy we miss you so much.
Father's Day is so special to me daddy even though you will never again celebrate it with me. I will forever celebrate you as one of the greatest dads in the world. Happy Father's Day daddy and I want you to know that I miss you so much and think about you always.
If death could be beseeched, I would have beseeched death not to take you away from us. Life must go on daddy but I will never forget you. I love you and miss you.
Daddy even though you are gone your memories will forever be precious, and the blessing is that you are still alive in us. We miss you so much and want to tell you that we love you so much.
The saddest day of my life was when you passed away daddy. Who can ever love us like you did? Who can ever take your place? We miss you so much.
If I had one more chance to have you here with me today daddy, I would do things differently. Every day I would tell you how much you mean to me. I miss you so much.
This void that your death left is like a gaping wound and no amount of balm can completely heal it. I miss you so much daddy.
No one knows the day they will die but it comes eventually and the ones left behind are left in so much pain. Daddy this pain is only made easier by knowing that your suffering is over at last. But we still miss you all the same.
Daddy I thank God for the opportunity of having been your child even for a short time. I am blessed to have been sired by such a great and wonderful man and I will forever love you and appreciate you. I miss you daddy.
Daddy, nothing will ever be the same again without you. I miss your wise counsel and guidance, and most of all I miss the one I called daddy for so long.
Daddy on the day you died it seemed as though the sun had set in the middle of the day. Even years later I am still trying to come to terms with the loss. Missing you terribly.
Missing You Messages for a Father
They say time heals wounds and pain. It does to a certain extent but the pain of missing you is so deep, I don't know how many life times it will take to heal.
You were our inspiration and now that you are gone life is empty and we really feel desolate at times. Daddy we wish you were still here, maybe things would be better than they are right now. We miss you so much.
Dad, I may have been present at your burial but deep in my heart I have never really said goodbye because you still live in my heart and in the memories we shared. I love you and miss you.
Dad, each year as the anniversary of your death comes we celebrate you for having been a wonderful father to all of us. We miss your guidance and loving care.
It always seemed easy to comfort friends who lost their fathers, but now that you are gone I finally know and understand their pain. I miss you terribly.
Dad, not a day passes by without something or someone reminding us of you. Your death has left us bereft and this void can never be filled. We miss you greatly.
Daddy, I cherish precious memories of you and find strength in knowing that even though you are gone you still live on in our hearts forever. We miss you daddy.